2021 Bound Brook Riverfest 
Saturday, September 25, 2021
11am – 5pm
Riverfest brings out all the best food, vendors, rides and local businesses. And best of all? It's FREE!
Did you know you can now look up all tax, refuse and sewer information? You can also download and/or print your tax bill!
Click here for more information.
***Search by either Account Number, Block & Lot, Street Address, or Owner Name***
Please note: Interest on delinquent amounts accrues daily. Amounts due are subject to change. 
 2021 General Election is Tuesday, November 2, 2021 from 6 a.m. to 8 p.m.
For in-person early voting information click here.
Click
here
to view the informational presentations to provide both the background, the anticipated benefits, and recommendation for the Sale of the Sewer System.
PSE&G Appliance Recycling
If you have an old refrigerator or freezer in your home, recycling it can help you reduce your energy costs. PSE&G makes it easy. We'll pick up and haul away up to two refrigerators or freezers per household. And, if you have any old, working room air conditioners or dehumidifiers, we'll recycle up to two room air conditioners and up to two dehumidifiers per household during the same appointment.
Click here to see the benefits of recycling and more information.
Deputy Municipal Clerk/ Deputy Registrar

                  
Preferred candidate must have at least two (2) years' experience in the Municipal Clerk's Office and have an RMC and CMR or willing to obtain. Qualified candidates must be self-motivated, technology savy and customer service oriented. Duties include assisting with the preparation of agenda packets, records management, OPRA, assisting with elections, and the issuing of a variety of licenses and permits.  Interviews will be conducted on an ongoing basis until a qualified candidate is hired. Email cover letter, resume and salary requirements to Jasmine D. Mathis, Municipal Clerk.
at jmathis@boundbrook-nj.org. The Borough is an E.O.E.
Please go to the following link to register for the Vaccine:
The Borough of Bound Brook is seeking a qualified individual to serve as a full time Violations Clerk. Click here for all the details.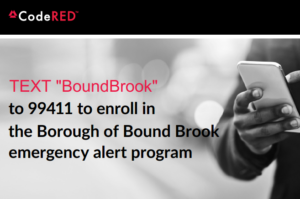 The Borough of Bound Brook uses CodeRED to send mass notifications by phone, email and text to keep citizens informed.
In the event of an evacuation, water main break, fire, road closures or water main repairs, etc. the Borough may activate CodeRED to send notifications to registered subscribers.
There is no charge to register for or use CodeRED, and personal information is kept confidential.
The Borough will temporarily permit local restaurants and eating establishments to serve food and/or beverages in an outdoor space in a manner consistent with Executive Order 150.