2023 Bulk Trash Collection Day
Pick up your 10 FREE stickers from the Clerk's Office beginning September 18, 2023. Click Here for more details.
The BOROUGH OF BOUND BROOK announces the sale of 2022 and prior year delinquent taxes and other municipal charges through an on-line
auction on DECEMBER 1, 2023 -8:30am.  For a listing of all parcels, delinquencies and costs, please visit
https://boundbrook.newjerseytaxsale.com
**information can be viewed free of charge**
Website will be available for viewing 4 weeks prior to sale date.
New Garbage Totes
All NEW garbage totes will be delivered the week of July 31st – August 4th.
You should begin using the new totes the week of August 7th.
The new totes have a gray body and blue lid.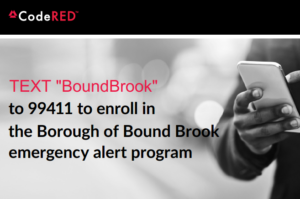 The Borough of Bound Brook uses CodeRED to send alerts and reminders by
text to keep citizens informed.In the event a road closure, weather advisory,
event reminders, garbage collection changes, etc., the Borough may activate
CodeRED to send notifications to registered subscribers. There is no charge to
register for or use CodeRED, and personal information is kept confidential.
Registering for CodeRED is quick and easy.
Click here or text "BoundBrook" to 99411.
Did you know you can now look up all tax and refuse information? You can also download and/or print your tax bill!
Click here for more information.
***Search by either Account Number, Block & Lot, Street Address, or Owner Name***
Please note: Interest on delinquent amounts accrues daily. Amounts due are subject to change.