New Employment Opportunities
 Employment applications are available at the Clerk's Office
OR click "employment application" below and mail with resume to address below.
Borough of Bound Brook
230 Hamilton Street
Bound Brook, NJ 08805
No Phone Calls Please
---
EMT's
The Borough is hiring EMT's, see below for more information. Click here to apply.
---
SITE SUPERVISOR – RECREATION DEPARTMENT
The Recreation Department is hiring a Site Superviror. This position entails the supervision of recreational programs and activities at all sites and facilities. Duties include but are not limited to answering questions and addressing concerns raised by participants, families, residents, etc. The supervisor will also assist coaches, program liaisons and work under direct supervision from the Recreation Director. The Supervisor is responsible for keeping an accurate inventory of all equipment and keep a log of equipment handed out and returned, unlocking restrooms and ensuring the locations have what they need to successfully run the program for that day/evening.
This position is up to 25 hours/week. The supervisor must be 18 years or older, have a minimum of 3 years experience in a similiar role, must be CPR and AED certified and must be able to work nights and weekends as needed. The supervisor must also be computer literate in Microsoft Office and submit timesheets for review by the Recreation Director and Director of Public Works.
If interested in applying, email: dleubner@boundbrook-nj.org
---
SPECIAL SLEO CLASS III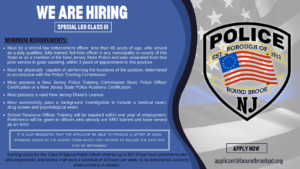 ---
VIOLATIONS CLERK
The Borough of Bound Brook is seeking a qualified individual to serve as a full time Violations Clerk. Under the direction of the Municipal Court Judge and Court Administrator, performs daily functions of the Municipal Court and other work as required. Candidate must be courteous and able to deal effectively with the public.
Applicants should be detail oriented and have strong customer service, communication, and telephone skills for a busy office. ATS/ACS/MACS and Page Center experience preferred. Selected candidate must be available for compensated weekly court sessions.
Responsibilities include, but are not limited to: answering queries from the public, employees, clients, attorneys, etc; preparing, reviewing and monitoring daily, weekly and monthly reports; drafting correspondence; performing data entry; complying with the New Jersey Rules of Court, Supreme Court Directives, laws and established policies and procedures governing the operation of the Municipal Courts.
Please click here for all details.
Please submit cover letter, current resume and salary requirements to:
Jasmine D. McCoy, Municipal Clerk
230 Hamilton Street
Bound Brook, NJ 08805
Fax: (732) 356-8990
Email: jmccoy@boundbrook-nj.org
The Borough of Bound Brook is an Equal Opportunity Employer.
** NOTE:  The above local job posting was submitted to the vicinage by the local municipality and is not a State job posting.
Borough of Bound Brook is an Equal Opportunity Employer.